When:
July 14, 2015 @ 3:00 pm – 4:00 pm
2015-07-14T15:00:00-04:00
2015-07-14T16:00:00-04:00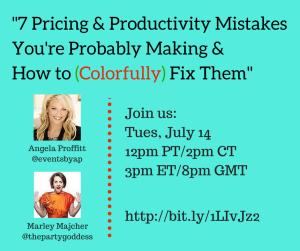 Does This Sound Like Anyone You Know? 
Ever been so desperate for the business that you took on a high maintenance client who nickeled and dimed you from the start, knowing she was going to make your life completely miserable? Ever been in a pinch and hired someone because an extra pair of hands had to be better than no one? (And then, ahem, they were a complete and total disaster?) Learn why that cheapskate bi-polar yo-yo is killing your business and how to spot them a mile away.
Then, please join Angela Proffitt and Marley Majcher for a truly life changing experience. (Well, that might be pushing it, but it's going to be super good and worth your time).
The #1 hiring mistake we're all making that's DEADLY to our businesses and is costing us tons of money

The 4 color process Microsoft & Google use to make selling a snap

How to spot that high maintenance client a mile away so you can cheerfully refer them to the competition

The exact words to use to get paid faster, get your point across and make the sale right from the start
Angela Proffitt, the CEO of Vivid Experiences & True Colors Certified Facilitator, has learned to use her background in psychology (and in the MORGUE, for real!) to master communication strategies and customize her messaging to clients before even meeting them. The methodology is super easy to implement and is life changing, personally and professionally. Jump on the webinar so you can master it too!
Marley Majcher, author of But Are You Making Any Money? the witty deal Forbes Magazine called
"A great how-to book for any entrepreneur" and regular contributor to Fox, Fox Business, MSNBC, Entrepreneur and frequent lecturer for Georgetown University's McDonough School of Business.
Date: Tuesday, July 14, 2015
Time: 12pm PT/2pm CT/3pm ET/8pm GMT
Duration: 1 hour
Cost: Free!
Disclosure of Material Connection: Some of the links in the page above are "affiliate links." This means if you click on the link and register and then purchase an item, I will receive an affiliate commission. I am disclosing this in accordance with the Federal Trade Commission's <a href="http://www.access.gpo.gov/nara/cfr/waisidx_03/16cfr255_03.html" target="_blank">16 CFR, Part 255</a>: "Guides Concerning the Use of Endorsements and Testimonials in Advertising."