When:
April 26, 2016 @ 1:00 pm – 2:00 pm
2016-04-26T13:00:00-04:00
2016-04-26T14:00:00-04:00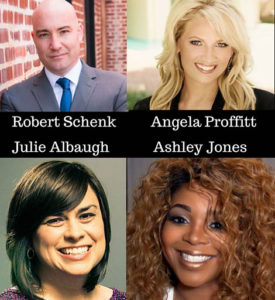 Join us on the @WeddingMarket Periscope for a marathon of wedding industry speakers on Tuesday, April 26th at 10:00am PST/1:00pm EST or 6:00pm UK time. Our special guests include Angela Proffitt, Robert Schenk, Ashley Jones and Julie Albaugh.
Schedule of speakers and topics:
Julie Albaugh Host: Opening Comments
Angela Proffitt: 1:02pm to 1:15pm EST
"How to be Productive when Marketing Your Brand"
Ashley Jones: 1:15pm t0 1:30pm EST
"How To Book More Clients"
Robert Schenk: 1:30pm to 1:45pm EST
"Wedding Business Contracts: Keeping Deposits and Protecting Your Business"
Julie Albaugh: 1:45pm to 2:00pm EST
"How To Gain More Referrals With Wedding Pros"
Julie Albaugh:
Julie Albaugh is editor of WeddingMarketNews.com and host of the #WeddingMarket chat on Twitter every Wednesday. Some of her #weddingmarket guests have included Cake Boss, Disney Weddings, Preston Bailey, Colin Cowie, David Tutera, Randy Feoli, Sharon Sacks, Sandals, The Knot and WeddingWire. Wedding Market was selected as #3 of the top 10 Social Media influencers in the Wedding Industry by Wed Biz Media. The #weddingmarket hashmark has a tweet reach of between 2 to 6 million each week. Julie has been a guest on the Marie Show on the Hallmark Channel along with a number of other TV shows. She speaks on a variety of topics on social media, weddings and marketing.
Ashley Jones:
Ashley Jones of Ashley Ann's Events is a talented wedding and event designer. She is equipped with a with a B.A. in Finance and M.B.A. Ashley's has made a name for herself by offering beautiful , unique, professional designs and productions. She inspires creative detail, and modern, elegant atmospheres. She is also an outstanding business woman exceling in social media lead generations, lead magnets, funnels, and return paths. Ashley's offices are Based in Little Rock, AR and Dallas, TX. She has become one of the most sought after designers in the South! www.EventsbyAshleyAnn.com
Angela Proffitt:
Beyond creating personalized events for clients, Angela is known for implementing technology to operate a paperless organization and leveraging her education in psychology to master communication with clients, vendors, and team members. As a thriving entrepreneur, her passion for helping others has carried her from starting her career in mental health to being one of the most well known educators and celebrity wedding planners in the world. As a result of her business success, Angela is a member of the Entrepreneurs' Organization, a global business network for entrepreneurs whose companies gross more than $1 million annually. She has been featured in Success Magazine for Modernizing an Industry Better Known for Tulle than Tech.
Robert Schenk:
Rob Schenk is a trial attorney and editor of WeddingIndustryLaw.com, an online resource of news, information, and legal materials for wedding professionals. Recently, he launched WedFormz.com, a database of downloadable contract templates and documents for wedding and event businesses.