Disclosure of Material Connection: Some of the links or listings on the page below are "paid listings". I am disclosing this in accordance with the Federal Trade Commission's 16 CFR, Part 255: "Guides Concerning the Use of Endorsements and Testimonials in Advertising."
Jul
14
Tue
Webinar 7 Pricing & Productivity Mistakes You're Probably Making & How To (Colorfully) Fix Them With The Party Goddess & Angela Profitt
Jul 14 @ 3:00 pm – 4:00 pm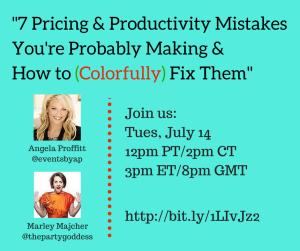 Does This Sound Like Anyone You Know? 
Ever been so desperate for the business that you took on a high maintenance client who nickeled and dimed you from the start, knowing she was going to make your life completely miserable? Ever been in a pinch and hired someone because an extra pair of hands had to be better than no one? (And then, ahem, they were a complete and total disaster?) Learn why that cheapskate bi-polar yo-yo is killing your business and how to spot them a mile away.
Then, please join Angela Proffitt and Marley Majcher for a truly life changing experience. (Well, that might be pushing it, but it's going to be super good and worth your time).
The #1 hiring mistake we're all making that's DEADLY to our businesses and is costing us tons of money

The 4 color process Microsoft & Google use to make selling a snap

How to spot that high maintenance client a mile away so you can cheerfully refer them to the competition

The exact words to use to get paid faster, get your point across and make the sale right from the start
Angela Proffitt, the CEO of Vivid Experiences & True Colors Certified Facilitator, has learned to use her background in psychology (and in the MORGUE, for real!) to master communication strategies and customize her messaging to clients before even meeting them. The methodology is super easy to implement and is life changing, personally and professionally. Jump on the webinar so you can master it too!
Marley Majcher, author of But Are You Making Any Money? the witty deal Forbes Magazine called
"A great how-to book for any entrepreneur" and regular contributor to Fox, Fox Business, MSNBC, Entrepreneur and frequent lecturer for Georgetown University's McDonough School of Business.
Date: Tuesday, July 14, 2015
Time: 12pm PT/2pm CT/3pm ET/8pm GMT
Duration: 1 hour
Cost: Free!
Disclosure of Material Connection: Some of the links in the page above are "affiliate links." This means if you click on the link and register and then purchase an item, I will receive an affiliate commission. I am disclosing this in accordance with the Federal Trade Commission's <a href="http://www.access.gpo.gov/nara/cfr/waisidx_03/16cfr255_03.html" target="_blank">16 CFR, Part 255</a>: "Guides Concerning the Use of Endorsements and Testimonials in Advertising."
Jan
28
Thu
How To Get Rid Of Time Wasters For Bigger Profits
Jan 28 @ 9:00 pm – 9:30 pm
How to get rid of time wasters for bigger profits with Angela Proffitt and Cristina Goebel.

Learn the following: 
Have one workspace platform for your clients and your vendors
Track all communication in one place
Back up, and share documents that can be public or private
Share and delegate task to team members and or clients to track accountability
Join this #WeddingMarket Blab on Thursday, January 28th, 2016 at 6:00 pm PT, 9:00 pm ET. Register to join the event at
www.weddingmarketblab.com
Time converter at worldtimebuddy.com
Angela Proffitt is a celebrity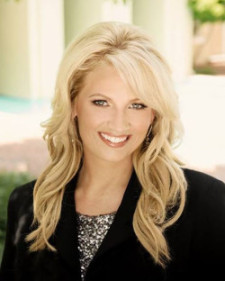 wedding planner, entrepreneur, and productivity coach with more than 10 years of experience in the wedding and event industry.  Angela is the owner and lead designer for Vivid Experiences, a full-service event and wedding planning company. With the help of her team, Angela's work has been featured in more than 100 publications, including People magazine, Us Weekly, Grace Ormonde Wedding Style Magazine, and Style Me Pretty. In 2012, she was recognized as one of the best wedding and event planners by Nashville Scene's "Best of Nashville."
See more of Angela Proffitt at www.AngelaProffitt.com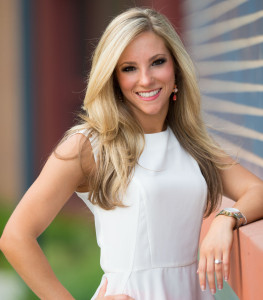 Cristina Goebel is the Co-Founder and President of Plan The Day. She has been in the events industry since 2008 and graduated from Purdue University with a Bachelors in Science in Hospitality and Tourism Management. Outside of running Plan The Day Cristina is on the board for the International Special Events Society as the Director of Strategic Partnership. She is also on the fundraising chair for the Reason to Dance Reason for Hope event benefitting Riley Children's Hospital. In addition to being in her fourth year as an Indianapolis Colts Cheerleader. Outside of running her business and taking part in the Indianapolis community Cristina loves to travel, and enjoys spending time with her husband and sweet puppy Indy.
Nov
6
Mon
Wedding Planner Certificate Online At California State University, East Bay
Earn your Wedding Planner Certificate online in 10 weeks @ California State University, East Bay

Distinguish yourself from the many wedding planners in the field today by earning your Certificate in Wedding Planning from an accredited university. Professional certification from Cal State East Bay informs your clients or potential employers that you have expert knowledge in all aspects of wedding planning and management.
Cal State East Bay's Certificate in Wedding Planning provides you with the industry skills, required knowledge, and practical training needed to pursue a career in wedding and event management.
You'll learn from an internationally recognized expert on weddings and special events Joyce Scardina Becker. Joyce is president of Events of Distinction in San Francisco, an innovative designer, and has been an inspiring educator for 20 years.
No application is needed to enter this program, simply register and enroll!
---