This is the Transcript of the #WeddingMarket Chat on June 3rd, 2015 with Kate Barrows from Zola. The answers were made on Twitter so responses will appear different.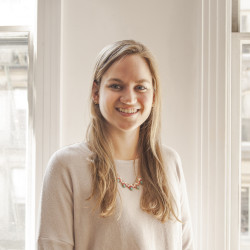 Kate Barrows is a Marketing Associate at Zola, a wedding registry that lets couples register for the gifts, experiences and honeymoon & cash funds that they actually want, all in one place. Kate manages all of Zola's social media channels, including Facebook, Instagram, Twitter, Pinterest, and their editorial blog. Zola took their Pinning to the next level, increasing conversions by 44% and click-through rates by over 50%.
Website: www.zola.com
Q1: How did you get involved with social media @zolaregistry?
Answer
Kate Barrows: I started on Zola's social presence when I joined the team (right before launch in 2013). Most engaged couples are on social, and it was crucial for Zola to play a role in this space, especially at the early stages of growing our brand. http://bit.ly/1AGDsdx
Q2: What would you say to someone just starting out on @Pinterest?
Answer
Kate Barrows: Start with a few boards and build from there. Think about what you're offering your users, be it products or inspiration, and if there's a unique angle you can frame your boards around. At Zola, we frame our boards around registry style + essentials and how newlywed couples spend time together: http://bit.ly/1AGDsdx
Q3: Is it important to have a @Pinterest business account instead of a personal account?
Answer
Kate Barrows: I recommend having a business account for brands. In addition to a verified profile, you'll have access to analytics, so you can make data-driven decisions, like seeing which pins users are interacting with most and building from there.   
Q4: How much time do you spend on @Pinterest weekly?
Answer
Kate Barrows: It varies. I try to check in a few times every day whether it's pinning New @Zolaregistry Arrivals (http://bit.ly/1KIwbNm), repinning images that inspire us, or uploading pictures from our photoshoots to inspire couples.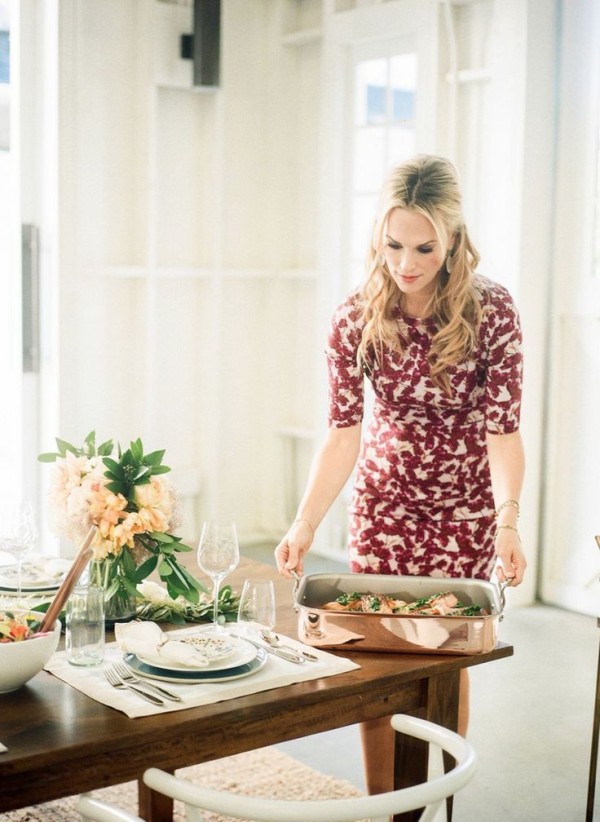 Photo by: Braedon Photography featuring Molly Sims
Q5: What are your thoughts on proper tagging/hashtag etiquette on @Pinterest?
Answer
Kate Barrows: If you repin content, the original source remains at the bottom, so it's easy to give people credit for their work without retagging them in the body. That said, if you're pinning original content, you should always tag contributors. Regarding hashtags – I prefer to keep them at a minimum. Cleaner pins are more inspirational. Here's an example of a pin we uploaded w/ @caratscake + @ilippke: http://bit.ly/1BE049i.
Q6: Are there certain types of pins that brides like more than others?
Answer
Kate Barrows: Brides are looking for inspirational content but that can come in many forms. My advice is to keep your images clean and don't clutter them with too much text. Pins that link through to informational blog posts or the original site are helpful, too. This is one that Lauren Conrad did about Zola: http://bit.ly/1AJOiyZ
Q7: Are there certain types of boards that are more interesting to brides than others?
Answer
Kate Barrows: The wedding planning process can be overwhelming, so boards that mix inspirational pins with relevant products or informational content tend to do the best. Our Wedding Registry Essentials board is interesting since it's useful and our Cook board is popular since it mixes products with inspiration. http://bit.ly/1FfrfaS
Q8: Did you make any changes to your Website to include @Pinterest?
Answer
Kate Barrows: Yes, we have a pin it button on all of our products + collections, so couples can pin their favorite gifts to boards (and remember them for later) or share them with friends.
Q9: Did you include pins in other social media platforms?  
Answer
Kate Barrows: We recently called out our Entertaining Board on Instagram + Facebook: http://bit.ly/1J8xoNt. We're looking forward to doing more cross-platform callouts this summer as well.
Q10: Did you have any Pinterest contests or promotions?
Answer
Kate Barrows: We did one Pinterest giveaway right after we launched Zola, but have since done giveaways on other platforms. We're looking forward to hopefully doing another one on Pinterest soon!
Q11: Have you partnered with any other bloggers or other wedding companies with @Pinterest?
Answer
Kate Barrows: We recently partnered with @yehmolly, a Zola bride, blogger & baker, to do a Tastemaker Collection. She also did a shared board with us, pinning all of the delicious goodies she baked using Zola products. Check it out here: http://bit.ly/1Rvunbr. Working with more influencers is something we're excited to explore in the coming months.
Q12: How often do you pin?  How much is too much?
Answer
Kate Barrows: It's less about a magic number, and more about how you space your pins over time. I always recommend pinning less at once (so you don't overwhelm your followers), and pinning a handful of pins throughout the day.
Q13: What is the proper etiquette to repin?
Answer
Kate Barrows: I'm a strong believer in repining. It's how inspiration spreads, how brands connect, and an awesome way to show support for content you love. Proper etiquette is citing the content's original source, which Pinterest makes easy since they include that link at the bottom of each pin.
Q14: If there is limited time & staff what should be a weekly pinning goal?
Answer
Kate Barrows: Ideally you'd be able to pin every day and spread your pins throughout the day. If you're strapped for time, try carving out 15 minutes twice a day. Think about when your users are likely to be pinning, and pin then.
Q15: What % of your pins is original vs. repinning?  
Answer
Kate Barrows: We try to have a healthy mix of #weddinggifts from our site (to inspire followers) and repinned content to show what's inspiring us from other brands. For example, if you look at our Silver Lake Style Collection board (http://bit.ly/1coFjaY) we have a split of content.
Q16: Do you work with photographers? Why is important to give credit to the photographers?
Answer
Kate Barrows: We have an awesome creative team that shoots a lot of our product in-house, but we have also worked with photographers in the past. It's important to credit them for their beautiful work, as it's a team effort to inspire your followers! Here's an example w/ @BraedonFlynn + @MollyBSims: http://bit.ly/1JftC4T
Q17: Any final tips?
Answer
Kate Barrows: Link original pins back to your site! That way your followers can take action and click through to what they want when they're inspired by your content. This pin, for example, has an inspiring editorial image that links back to a collection of products: http://bit.ly/1GhoRY4 
Q18: What would you like everyone to take from this #WeddingMarket Chat?
Answer
Kate Barrows: As a primary platform for couples that are gathering inspiration for their wedding, Pinterest is an amazing tool for brands to connect with brides-to-be, especially when there's a defined goal and strategy in place!    
#WeddingMarket Questions From Twitter: 
@FiggieShoes Q/A3: …can get to know you as a person and not just a brand. Is it better to keep them separate?
Kate Barrows: Pinning behind the account is. Our profile on Zola says, for example, "pins by @k8barrows".
@YourWeddingHelp Do you try to keep a % pins to your site vs. others' on your boards?
Kate Barrows: We try to maintain a healthy mix. The majority of our pins link to our site, but where we get our inspiration is just as important and we want to credit those people and brands as well.
@HappyHanky Do you like to use promoted pins? Had success with them?
Kate Barrows: We have promoted before + seen great results. You can read more here: https://business.pinterest.com/en/success-stories/zola
@DanielaDegrassi Heard @Pinterest is the leading Social Media to drive actual sales. True?
Kate Barrows: Take action on their inspiration by making sales easier than some platforms.
@FiggieShoes I've been wanting to do a @Pinterest competition to boost traffic and sales-any tips on the best or worst ways?
Kate Barrows: Think about when your users are online + on Pinterest. So try testing night time/weekends since it's generally a safe bet that most people aren't at work.
@HappyHanky Do you recommend pinning the same pin more than once so it shows up periodically throughout the day/ week?
Kate Barrows: You could try that. If you want people to see a specific pin, perhaps try pinning it over a couple of days instead of just